Hello Friends!!Welcome back to our LyfnStyle.Com.
The dream of walking in this beautiful world is of a lot of us, 6 Day Kerala Tour | Major Tourist Places in Kerala | Completed Guide.
So in this article, we are going to serve you from Kerala.
And we tell The tour plan of Kerala.
So read this article in full.
In today's article, we are going to talk about how we can visit all the major tourist places in Kerala.
If you love nature and tracking activities more, Then Kerala is the best visiting place for you. September to February is the best time to visit Kerala.
Kerala receives more heat during summer more rainfall during Monsoon.
That's why the winter season is much better.
There are many ways to go to Kerala.
You can go by flight, train, car or bus. Kerala is connected to many major cities of India such as New Delhi, Mumbai, Kolkata, and Chennai Through an effective train service.
About 200 railway stations in Kerala.
Which connect both within and outside of Kerala.
Let's Start With Day – 1
Start from Kochi.
Kochi can be reached by train or airline from any city in India.
It is good to view the local sight scene here.
If you book a taxi, they charge around 2500 for the entire sight scene.
There is a lot of places to visit in the local sight scene.
Which Includes…
The local market for shopping.
After lunch, you can leave for Munnar.
The local cab charges around 2600 for this trip.
On the way from Kochi to Munnar, two large waterfalls named Vazhachal and Athirappilly come.
Do not forget to see that.
Vazhachal waterfall is an exquisite waterfall of Kerala. located in Trishul District near Kochi. This waterfall is followed by Athirapally Waterfalls.
Which is the largest waterfall of Kerala, which is 80 feet in height.
Day 02:-
After reaching Munnar, 4 sight scene is available in Munnar for the local sight seen on the second day.
The local auto here charges Rs. 450 for this tour.
It is a flower garden famous as a 'Floriculture Center'.
The specialty of this garden is that there are many varieties of flowers and herbs available here.
The Garden is maintained by the Kerala Forest Development Corporation.
After the Flower Garden, visit the Tata Tea Museum.
After that, there was a meeting of the Lockhart Tea factory. Muttupetty dam should go after seeing the Lockheart Tea factory.
Muttupetty is a famous tourist spot in Munnar.
This place is famous because of the Tea plantations spread around the lake.
Eco's point should go from Muttupetty. Eco's point is located at a distance of 15 Km from Munnar.
It is surrounded by the Green Mountains, This view is picturesque.
The top station should go from Eco's point. The top station is 32 Km away from the City center. And this is the highest point in Munnar. From this point, you can enjoy a beautiful view of the majestic Western Ghats.
This point is famous for its natural beauty. In the evening, you can enjoy a Kathakali dance performance.
The ticket for this dance show is Rs.250 per Person. And you can also see Kerala's famous Kalaripayattu.
Kalaripayattu is an Ancient Martial Art. It is originated in Kerala.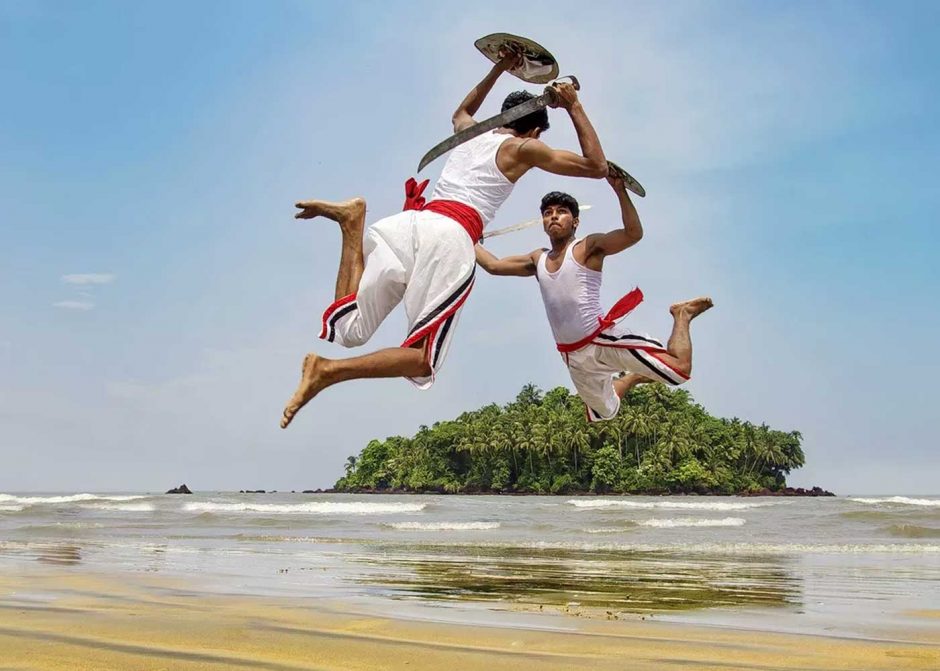 The Ticket price for this show will be Rs.300 per Person.
Famous Actor of India, Vidhyut Jamwal is also a master of this art.
Day 03:
The next day in the morning you can meet the local market here.
from where you can buy Homemade chocolates, Fresh Vegetables, and Fruits. after breakfast, we can now proceed from Munnar to Thekkady.
If you go by bus then there is a journey of 6 hours.
which ticket charge is Rs.110 per Person.
Thekkady is located near Kerala – Tamilnadu border.
This site is famous for its lush green forest and savanna grassland.
It is home to many Animals. such as elephants, sambar deers, tigers, and Nilgiri langurs. Nilgiri langurs are species of monkeys.
After that, you should go for a boat safari at Periyar Wildlife Sanctuary.
The Safari charge with the camera is Rs.285.
This wildlife sanctuary was declared reserved for Tigers in 1978.
The magnificent artificial lake created by the Mullaperiyar Dam across the Periyar River is an added attraction here.
The biggest attractions here are a flock of wild elephants, deers, and bison.
Those who come down to drink water. Alleppy should go from Thekkady.
The local car here charges between Rs.2500 to Rs.3000 for this trip. And the bus is also available.
Those who charge between Rs.150 to Rs.170 per person. This route takes 6 hours.
Day 04:
After reaching Alleppy from Thekkady, you should go for a local tour here.
The auto-rickshaw charges Rs.500 for the local trip.
First, you should go to Alleppy beach. after that go to Alleppey lighthouse.
The Lighthouse here was built in 1862.
This was the first lighthouse of the Arabian sea in Kerala.
This lighthouse is open for tourists between 3:00 pm to 4:30 pm.
Its entry fee is Rs.20 for Indian citizens and Rs.50 for Foreign tourists.
Day 05:
The next day you should go to Alleppy backwater. local auto will take you from hotel to Alleppy backwater in just Rs.100.
you should spend the night in Alleppy backwater Boathouse.
Boathouse charges around Rs.5000 for a day with food.
This cruise is famous for its amazing view.
Day 06:
After spending the night at Alleppy backwater's boathouse you should go to Thiruvananthpuram the next day.
Which is the capital of Kerala. you should go to the lighthouse beach here.
Local auto-rickshaw charge Rs.100 Per person.
Take delicious seafood in the evening and enjoy the sunset.
Must do local sight scene around lighthouse beach. The local auto here charges Rs.550 for a full-day tour.
After this, you go to Padmanabham Swami Temple. This is a famous Temple of Kerala.
Both Traditions, Kerala style, and Tamil style architecture are found in this Temple. this temple belongs to Lord Vishnu.
You should go to Poovar backwater from The Padmanabham swami Temple (Sree Padmanabhaswamy Temple)
The backwater cruise will charge around Rs.2000 to Rs.3000 depending on the reserved boat, available time, and the number of seats. Poovar is a small village located in the south part of Thiruvananthapuram. and it is famous for its backwater beaches and resorts.
Must go from Poovar to Kovalam beach.
If you love fun and adventure activities, then this is the right place for you in Kerala.
From Kovalam beach, you should go to Samudra beach. on this beach, you can experience nature.
Day 07:
The next day you should go to Varkala beach.
The local taxi here will charge around Rs.2000 for this trip.
This beach is also known by the name 'Papnasham'.
Meaning that you can wash all your sins on this beach.
after Varkala beach go to Shree Janardan Swami Temple.
This is a 2000-Year-old Temple. There are many hotels and lodges available throughout Kerala for a stay during this entire tour.
Mid-level hotels will charge between Rs.1500 to Rs.2500 for a day.
The total cost for a couple will be around Rs.70000 including flight fare. That's it for today.
To learn about a similar and new tourism place.
Please share this article "6 Day Kerala Tour | Major Tourist Places in Kerala | Completed Guide"
For more blog click here…